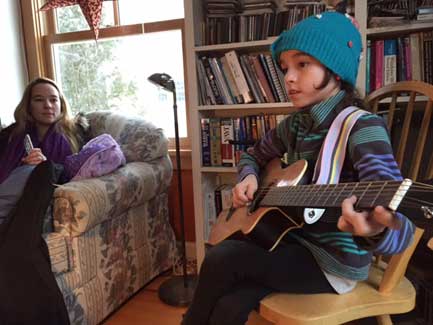 I started teaching guitar in 1980, when I was asked to take over a full schedule from a departing teacher at a teaching studio in Maryland. Up till that time I'd never considered a career in teaching, but I soon found that I had as much passion for teaching as for music. I currently offer guitar lessons at my home studio in Burlington, and teach private guitar lessons for college credit at St. Michael's College and at the Community College of Vermont's Burlington campus. I also teach Music Theory and Music Technology courses at the community college.
Guitar instruction is a bit different from instruction for most other musical instruments. Most instruments have a long tradition of teaching methods and materials. These methods come from the "classical" traditions, and serve to give a student a solid foundation on their instrument, preparing them for study in any musical style.
The guitar does have these "classical" traditions, and if what you want is to learn the repertoire played by such great players as Andre Segovia, Sharon Isbin, and Manuel Barrueco, then I'll be happy to teach you "classical" guitar. I have a strong background in this tradition.
But for various reasons, these classical methods are not the most appropriate for learning "popular" styles such as Rock or Jazz. The classical traditions are oriented toward learning music through reading staff notation. While I encourage my students to study this valuable tool, the most direct approach to learning popular styles on the guitar involves memorizing left hand shapes and patterns on the fingerboard and right hand techniques for sounding these structures. This is how guitar greats such as Jimi Hendrix and Eric Clapton learned to play.
This approach to learning guitar doesn't have long established teaching traditions, so it's largely up to the individual guitar teacher to develop their own set of methods and materials appropriate to the different ages, levels of experience, style interests, and learning styles of the individual students they teach. These methods are developed with experience over time. The teacher's own music education can help serve as a guide. In addition to my classical guitar training, I have a Bachelor of Music degree from the Berklee College of Music, a recognized world leader in popular music education.
Over time I've learned that one of the best ways to speed an individual's progress on the guitar is to focus on developing their musical "awareness". To me this means, for instance, that if a student is learning in terms of fingerboard shapes, then the more they learn about what these shapes represent in terms of musical structures, and the more they learn to recognize these structures "by ear", the faster they can make progress. To this end I like to (gently) introduce concepts of Music Theory and Ear Training early on in the lessons.
I also help my students learn to enrich their musical experience through the use of tools from the expanding world of Music Technology.
Whatever you (or your child's) musical interests and backgound are, give me a call, or drop me an email and we can discuss your musical goals and how I might help you attain those goals.
Rates and Policies:
If you pay in advance for a block of at least four lessons, I charge $40/hour, $20/half-hour. I ask for 24 hours cancellation notice, or you forfeit the cost of half a lesson.
If you pay as you go for individual lessons, it's $45/hour, $22.50/half-hour. Pay as you go lessons can be weekly, or whatever frequency works for you.